Dark circles are extremely stubborn and obstinate and dealing with them is not at all a straightforward task. The skin around our eye is sensitive, delicate and 40% thinner than the rest of our skin, which makes it more vulnerable to environmental pollution, stress and anxiety. Hence your eyes get easy victim to dark circles.
For treating dark circles a full night's sleep is not enough as there are other reasons for dark circles such as hyperpigmentation, genetics, and allergies.
Now girl I know that there are tons of makeup products that can conceal dark circles in an instant! But that is not a healthy fix; if you always use a corrector or a concealer to hide those dark patches under your eyes, your skin will be damaged in the long run.
Therefore, the best way will be to search for something which can provide a long-lasting result. The most effective solution to cure this difficult problem is an eye cream which generally uses high-tech ingredients to constrict blood vessels for brightening the pigmented areas.
However, there are tens of thousands of eye creams which are available in the market. Most of them are not capable enough to provide you the desired result which means the wastage of your time and money. Therefore, you have to be cautious and should pick one that actually works. Before finding out the best eye creams for dark circles, let's see the causes behind it.
Causes of Dark Circles
---
Stress or strain is one of the big reasons for dark circles. When you stare at a computer screen or a TV screen, the blood vessels around eyes get enlarged which in consequence causes dark circles.
Excessive exposure to sun can lead to excessive melanin production which results in dark patches in your skin. If your eyes get exposed to the sun for a long time, the surrounding skin around your eyes gets darkened.
Lack of hydration is another reason for dark circles. If your body does not get an adequate amount of water, the skin beneath your eyes looks dull and damaged.
If your body does not get enough sleep, the dark tissues and blood vessels beneath your skin become prominent and your skin under eyes looks dull and dark.
Genetics plays an important role behind dark circles as you can inherit it directly from your family.
---
Best Eye Creams to Treat Dark Circles
You can treat your dark circle with regular and consistent use of eye cream. Now, without further delay, let's see some of the best eye creams for dark circles which are easily available in the Indian market:
---
1. The Moms Co. Natural Vita Rich Under Eye Cream
To see a rapid improvement in the appearance of dark circles, you can fall back upon this eye cream which is considered one of the best under eye cream for dark circles in India. This incredible cream almost single-handedly can address several issues like puffiness, fine lines and dark circles.
Its key ingredients are Chamomile oil, Chia seeds oil, coffee oil, Vitamin E and B3. Chamomile oil provides intense hydration, fights uneven skin tone, reduces hyperpigmentation, cures dry parches and soothes skin.
Chia seed oil prevents fine lines, moisturizes the delicate skin around the eyes, defends skin against sun damage and restores skin's protective barrier. Coffee oil helps to dilate the blood vessels beneath the skin that as a result increases the blood flow which in return reduces dark circles.
Besides, coffee oil calms and soothes the delicate skin around the eye area. While Vitamin E proffers a sufficient amount of antioxidants, Vitamin B3 in its niacinamide form assures intense hydration by preventing water loss.
Advantages:
Reduces the appearances of dark circles.
Abolishes fine lines and wrinkles.
Decreases the appearances of under-eye puffiness.
Soothes and calms the delicate skin around the eyes.
Proffers deep nourishment and hydration.
Increases the blood flow which in return makes skin refreshed and more energized.
Disadvantages:
May give a burning sensation.
---
2. StBotanica Pure Radiance Under Eye Cream
Let me take a guess, your skin always remains thirsty, because of which the surrounding areas of your eyes also remain dehydrated, right? Hence you are in search of a cream that can ceaselessly provide hydration and moisture.
The good news is that your search is over because this eye cream from St.Botanica is exactly what you want and it is one of the best natural eye creams for dark circles.
It is comprised of ingredients like Hyaluronic Acid, Vitamin E, Cucumber, Licorice, Aloe Vera, 3-0-Ethyl Ascorbic Acid and Argan Oil. Hyaluronic Acid resists wrinkles, fine lines by providing intense moisturization.
Check Also: Top 10 Best Body Lotions For Dry Skin in India
Vitamin E nourishes the eye area by furnishing plenty of antioxidants and other nutrients. Cucumber soothes, tones skin and Argan oil fortifies skin against sun damage and moisturizes skin deeply. This lightweight formula seals the moisture within the skin that in return keeps skin hydrated and moisturized for a prolonged period of time.
Advantages:
Replenishes and restores moisture.
Terminates fine lines, eye puffiness.
Reduces the appearances of dark circles.
Evens skin tone appearance by smoothening under eye area.
Extremely lightweight and gets absorbed easily.
Moroccan argan and jojoba oil supplies strong antioxidant properties that fight against free radicals.
Disadvantages:
May break you out.
Slightly expensive.
---
3. Mamaearth Under Eye Cream for Dark Circles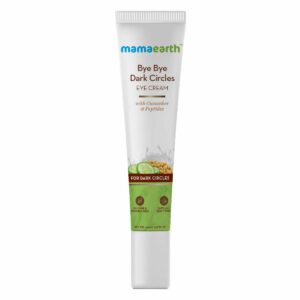 Do you know that the exhausting workload and sleepless nights can really take a dig at your beautiful eyes? And the most obvious impacts are dark circles and dull eyes. To prevent your eyes from becoming dull and dark just grab this cream from Mamaearth which is considered the best dark circle removal cream in India.
Cucumber within it reduces the swelling and puffiness of skin, combats the signs of ageing, soothes and calms skin. The hawkweed extracts condition skin and lightens the appearance of dark circles.
Peptides another bioactive boost the production of collagen and the eye area becomes radiant. It also contains daisy flower extracts which exfoliate skin gently which in return decreases the appearance of dark circles.
Advantages:
Lightens and brightens the appearances of dark circles.
Resists melanin deposits.
Calms and nourishes skin intensely.
Is made of natural ingredients and dermatalogically tested.
Free from parabens, sulphates, petroleum, SLS, color and preservatives.
Disadvantages:
Can give a burning sensation.
---
4. UrbanBotanics Under Eye Cream Gel for Dark Circle
Are you tired by dealing with your obstinate dark circles? Then it's prime time that you should bring this cream and see the amazing result by yourself.
It is stuffed with ingredients like Hyaluronic Acid, Quinoa, Niacinamide and tomato extracts. As Quinoa is enriched with Vitamin B, it brightens your dull eyes by reducing the appearance of dark circles.
Read Also: Top 10 Best Anti Aging Creams in India for Women
The Hyaluronic acid locks the moisture within skin as a consequence of which your skin remains well-moisturized and well-hydrated. Niacinamide decreases hyperpigmentation, soothes redness and blotchiness and reduces the swelling and puffiness of eyes. Tomato extracts protects skin against any sun damage, lightens dark circles by reducing the production of melanin.
Advantages:
Reduces the appearances of puffiness and under eye bags.
Erases fine lines and wrinkles.
Lessens the appearances of dark circles.
Lightweight formula glides on easily and gets absorbed quickly.
Free from sulphates, parabens, alcohol and any other harmful chemicals.
Suitable for sensitive skin.
Disadvantages:
Takes time to show the desired result.
---
5. Bella Vita Organic Eyelift Eye Cream Gel
It is an intensive under-eye treatment that can do a miracle for removing dark circles and puffiness.
It is enriched with Tulsi, Cucumber, Retinol, Vitamin E, Almond oil, and aloe vera. Vitamin E nourishes skin and stimulates the process of skin renewal. Having anti-bacterial properties Tulsi prevents bacterial eruptions and soothes the delicate skin around the eyes.
Retinol boosts the cell renewal process and brightens the under-eye area. It provides a sufficient amount of Vitamin C that increases the flexibility of skin by stimulating the production of collagen.
Advantages:
Removes dullness and puffiness of eyes.
Gradually wipes out the appearances of fine lines, crow's feet and wrinkles.
Refreshes and rejuvenates eyes.
Provides ample amount of Vitamin C, E and antioxidants.
Moisturizes and hydrates skin intensely.
A small quantity goes a long way.
Disadvantages:
Can make your skin itchy.
---
6. FINECARE Eye Cream for Dark Circles
Do you always look tired and exhausted due to your dull and baggy eyes? If your answer is yes, then do hurry and invest in this eye cream which will in an instant awake your eyes, besides it, will diminish those obstinate dark circles.
Infused with ingredients like aloe vera, protein peptides, Hyaluronic Acid, Vitamin C and green tea this eye cream works wonders for dark circles. The caffeine in green tea helps to constrict the blood vessels around your eyes which as a result contracts dark circles. Protein peptides augment collagen production and fight against wrinkles and fine lines. Aloe vera provides all the necessary nutrients for your eye area and it furnishes intense hydration.
Advantages:
It is lightweight and glides on easily.
Hydrates and smoothens wrinkles and fine lines.
Eliminates eye-puffiness and swelling.
Is enriched with powerful ingredients.
Under-eye area becomes plumper and more supple.
Resuscitates and rejuvenates skin at the cellular level.
Does not irritate sensitive skin.
Disadvantages:
Not suitable for acne prone skin.
---
7. Biotique Bio Seaweed Revitalizing Anti Fatigue Eye Gel
Are you in search of a refreshing gel that can instantly brighten your eye? Then look nowhere as this is the ideal match for you and for its efficacy it can be called as the best cream for dark circles in India.
As ingredients, it consists of Jaiphal, cucumber, badam, Behera, Chinai ghas and Punarnava. Chinai ghas increases blood circulation that brightens skin. Jaiphal is a mild exfoliator that gently exfoliates the delicate skin and gives an instant brightness. Badam, being rich in antioxidants helps skin to fight against the signs of premature ageing. Cucumber leaves a cooling effect which soothes the eye area and reduces the puffiness and swelling of eyes.
Advantages:
Eliminates dark circle to a considerable level.
The eye-puffiness dwindles gradually.
Minimizes the bulging and shadows around the eyes.
Is enriched with seaweed that provides protein, lipid, vitamins, minerals and other detoxifying ingredients.
Rejuvenates eye area.
The gel is transparent, non-greasy and non-sticky.
Disadvantages:
May give a tingling sensation.
---
8. Reveuse Under Eye Gel
This brilliant formula ensures that you always smile with bright and beautiful eyes. This natural formula is enriched with almond oil, glycerin, clove oil, orange oil and aloe vera gel. These ingredients collectively nourish skin, moisturize skin deeply, slow down the appearances of fine lines, crow's feet and abate the appearances of dark circles.
Advantages:
Suitable for all skin type.
Awakens and brightens eyes.
Erases any signs of fatigue or tiredness.
Helps to thicken sensitive under-eye area.
Takes the edge of dark circles, bagginess and wrinkles.
Restores the natural glow and radiance.
Disadvantages:
Not suitable for extremely dry skin.
---
9. Honest Choice Eye Cream for Dark Circles
This penultimate pick is for those who are in search of a gentle as well as effective eye-cream. This cream is meant for giving you relief from tired eyes, dark circles, eye bags, wrinkles and fine lines- a single bottle can serve all these purposes.
This multi-effect gel contains effective ingredients such as cucumber, Vitamins, plant cell extracts. It replenishes eye area, assists with puffiness and dark circles and hydrates skin quite efficiently.
Being lightweight it gets absorbed easily and at once makes skin soft, supple and plump. It calms and soothes and makes the eye area refreshed and radiant.
Advantages:
Recharges and revitalizes skin by providing all the necessary nutrients and nourishment.
Contains effective ingredients like cucumber, vitamins, plant cell extracts.
Single-handedly fights almost all issues like puffy eyes, eye bags, wrinkles, crow's feet, wrinkles and dark circles.
Does not contain parabens, fillers, dyes or fragrances.
Disadvantages:
---
10. Oriental Botanics Under Eye Roll-on
You have grown desperate to remove those unpleasant dark circles, right? To achieve your goal you have relied on thousands of products and still there is not an improvement. Now try this eye cream from Oriental Botanics and you don't have to go through that tiring job of searching for an effective cream.
It comes with the virtues of aloe vera, cucumber, green tea, Vitamin B3 and Hyaluronic Acid. It smoothens the delicate skin, increases flexibility, lightens dark circles and banishes eye bags and puffiness.
Advantages:
Gives nourishment and prolonged hydration.
Firms the under eye are and smoothens fine lines and wrinkles.
Abolishes dark circles and eye puffiness.
Is infused with vitamins and antioxidant-rich botanical extracts.
Contains no parabens, silicones, SLS/SLES or mineral oils.
Disadvantages:
The ball does not rotate easily.
---
Frequently Asked Questions (FAQs)
---
Do eye creams really work?
If you have dark circles or eye bags which are hereditary, then an eye cream does not yield that much result. Otherwise, eye creams that contain effective ingredients really work.
How can I remove dark circles at home?
You can try almond oil and vitamin E mixture. To do this, mix almond oil and Vitamin E ( you can use vitamin E capsule), then apply it to dark circles twice a day. Follow this simple home remedy regularly and you will see improvement.
What is the best under eye cream for removing dark circle?
There are several eye creams that work wonder for removing dark circles such as The Moms Co. Natural Vita Rich under Eye Cream, Biotique Bio Seaweed Revitalizing Anti Fatigue Eye gel, Mamaearth Bye Bye Dark Circles etc.
What eye creams really work for Dark circles?
Those eye creams which contain Vitamin C, Kojic Acid, Licorice extracts can assist you in removing dark circles.
---
You May Also Like:
---
Conclusion
Hence girl, time has come that you bid adieu to dark circles. Now you don't have to worry about your tired eyes and dull look. Just have some faith in the above eye creams which are the best eye creams for dark circles and use any one of them consistently and see what magic happens.